On November 7th, the King & Queen of Thailand visited the temple Wat Bowonniwetwiharn Ratchaworawiharn.
I had witnessed the preparations for an event on my visit to the temple and had asked a lady cleaning golden carvings with a soapy toothbrush for details. So on the day of the royal visit I was amongst a handful of tourists allowed to sit together with hundreds of locals on the street curbs opposite the temple to watch the royals arrive.
As one would expect, there was a lot of military, security, spectator group leaders but also tourist officers. The latter questioned me and other tourists coming up to the barriers about our intensions. "We would like to see your King and Queen". That seemed to be the right answer and he guided us to places were mats had been put down to protect our clothing. As with lots of other places, especially temples, you had to take off your shoes.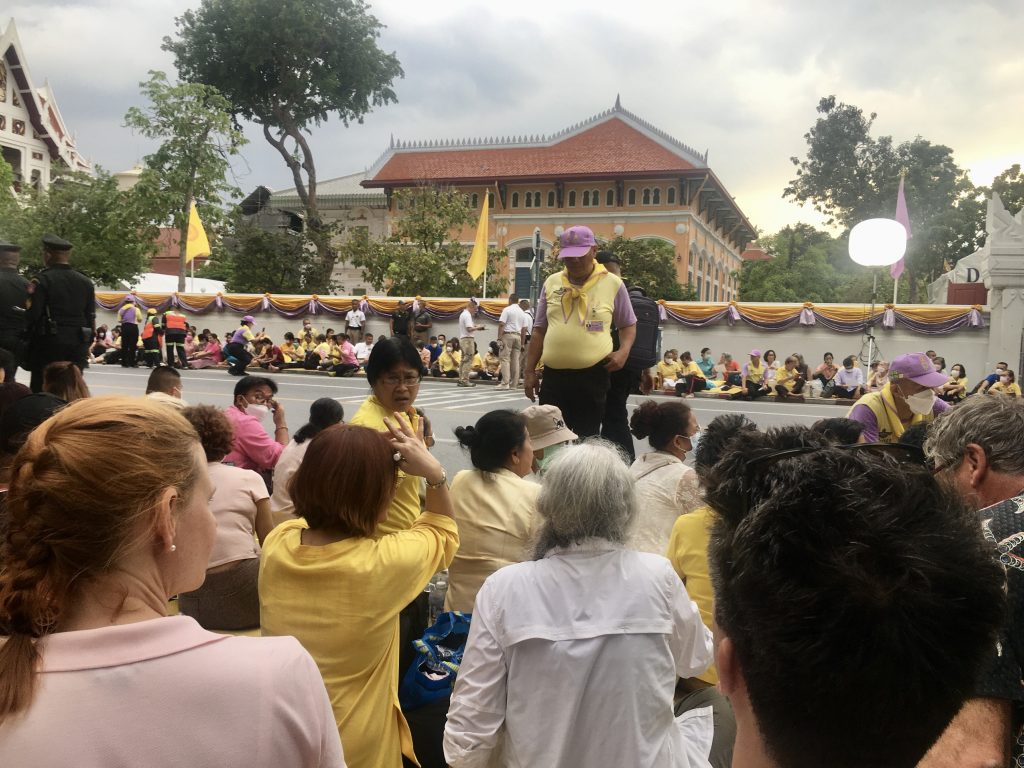 We tourists all scrambled under awnings. Mats were rolled up. Hardcore locals did not get up. They had been waiting for hours to ensure first row curb seats. They came prepared. Rain ponchos were handed out.
My friend Malcolm will appreciate the beautiful Rolls-Royce. It reminded me of his novel, The Tiger's Ghost; a Rolls-Royce plays a prominent role in it. Great story. Check it out on Amazon.
I got a proper look at the King and Queen when they left and drove past us again. I just forgot to turn on my video, blonde me.
And yes, we all waited over an hour for the whole entourage to come back. But it was raining anyway and nobody wanted to get drenched.
I later saw a report of the visit on TV. I felt very lucky to have witnessed this in person, on my first visit to Thailand no less.